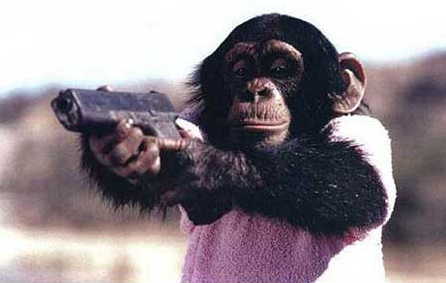 Six Road Movies to Inspire and Delight–and not one involving a Trucker and a Chimp!
Raising Arizona
Fargo, while fun, was redundant. Hilarious and hyper-kinetic, Raising Arizona is the only film the Coen brothers, or anyone else for that matter, ever need to make. If I start recounting my favorite parts, we'll be here all night, so I'll just say, "Boy, you got a panty on your head," and leave it at that. Oh, and Nicholas Cage has never been better, and that's saying a lot. [Well, it was in 1996! Remember, all this was written 10 years ago.]
The Road Warrior
Everyone talks about how Blade Runner defined the cinematic look of the future, but for my money, the much lower brow Mad Max movies, with their hordes of punk rockers tearing around the desert on motorcycles and cannibalized cars, were every bit as influential. Don't ask where post-apocalypse Australians get all that hairspray and football equipment. Just enjoy the vehicular carnage (certain low-budget chase scenes were accelerated, like the old Batman TV series, just by speeding up the film) and young Mel Gibson in leather pants. [And it was still OK to like Mel Gibson in 1996 too!]
Highway 61
Here's our required Canadian content: a barber and a roadie drive a cocaine-filled corpse from Thunder Bay to New Orleans with the Devil on their tail. Essential viewing for any Canadians going south of the border, and a surprising treat for all three Americans who saw it.
Repo Man
If you haven't seen it in ten years, rent it tonight. [I haven't, actually. Maybe I should.] With slackers before there were slackers, and UFOs and Men In Black fifteen years before they were "the shit." [Hee. How quaint that in 1996, "the shit" required scare quotes.] I don't know if Repo Man was ahead of its time or just outside of time altogether. Did you know the story was originally a comic strip in a homemade 'zine? Like nothing else then or now, Repo Man can only be the product of some alternate history where the eighties were everything they could have been. Every time you watch it, you actually become cooler.
Kalifornia
Brad Pitt and Ensign Ro guest star in a long, morose episode of The X Files. I mention this mainly as an example of one of my favorite subgenres of road movie, the White Trash Lovers on the Run. You know what a White Trash Lovers on the Run movie is, don't you? Take two star-crossed lovers, on a bra-less beauty in a tank top, the other a violent sociopath in a Hawaiian shirt. Give them a vintage convertible, and sick the law and/or the Mob on their tail. Add surf rock and desert scenery, and before you can say, "Get me Juliette Lewis," they're calling you the next Tarantino. Say hi to Mira for me!
Thelma & Louise
"That's what good waffles do, they stick together." A White Trash Platonic Female Buddies on the Run Movie that boys loved too. This boy, anyway. T&L ushered in a wave of womyn-centred road movyes, none of which have had even a fraction of the original's cojones. Hmm. That's an unfortunately gendered metaphor, but you know what I mean.